If you're a music lover like me, then you understand the importance of having a great sound system. Speakers are a vital part of any audio setup, and when you're looking for quality, JBL is always a great option.
So it might be the case when you just got a new JBL speaker and you want to know how to connect it to your iPhone. Whether you have the latest iPhone 13 or an older model, I'll show you how to get your new speaker set up and playing in no time.
JBL speakers are known for their quality sound, and they're a popular choice for music lovers and audiophiles. If you've just purchased a new JBL speaker, you're probably eager to get it set up and start listening to your favorite tunes.
Well, before I show you how to do that, let's first talk about why you might want to do that in the first place. 
Reasons Why You May Need To Connect iPhone To JBL Speaker
There are a few reasons why you might want to connect your iPhone to a speaker.
Perhaps you are having a party and want everyone to be able to enjoy the music during the party.
Maybe you just want to listen to music in a different room of your house without having to lug your iPhone with you.
It might be that you want to improve the quality of the sound you hear when you listen to music.
It can enhance the experience of listening to music or watching videos on your phone
No matter what your reasons are, I'll show you how to establish a connection to your iPhone with a JBL speaker in just a few simple steps.
How To Connect JBL Speaker To iPhone?
Fortunately, connecting your iPhone to a JBL speaker is relatively easy, and I'll show you how to do it.
Total Time: 1 minute
Turn On JBL Speaker & Bluetooth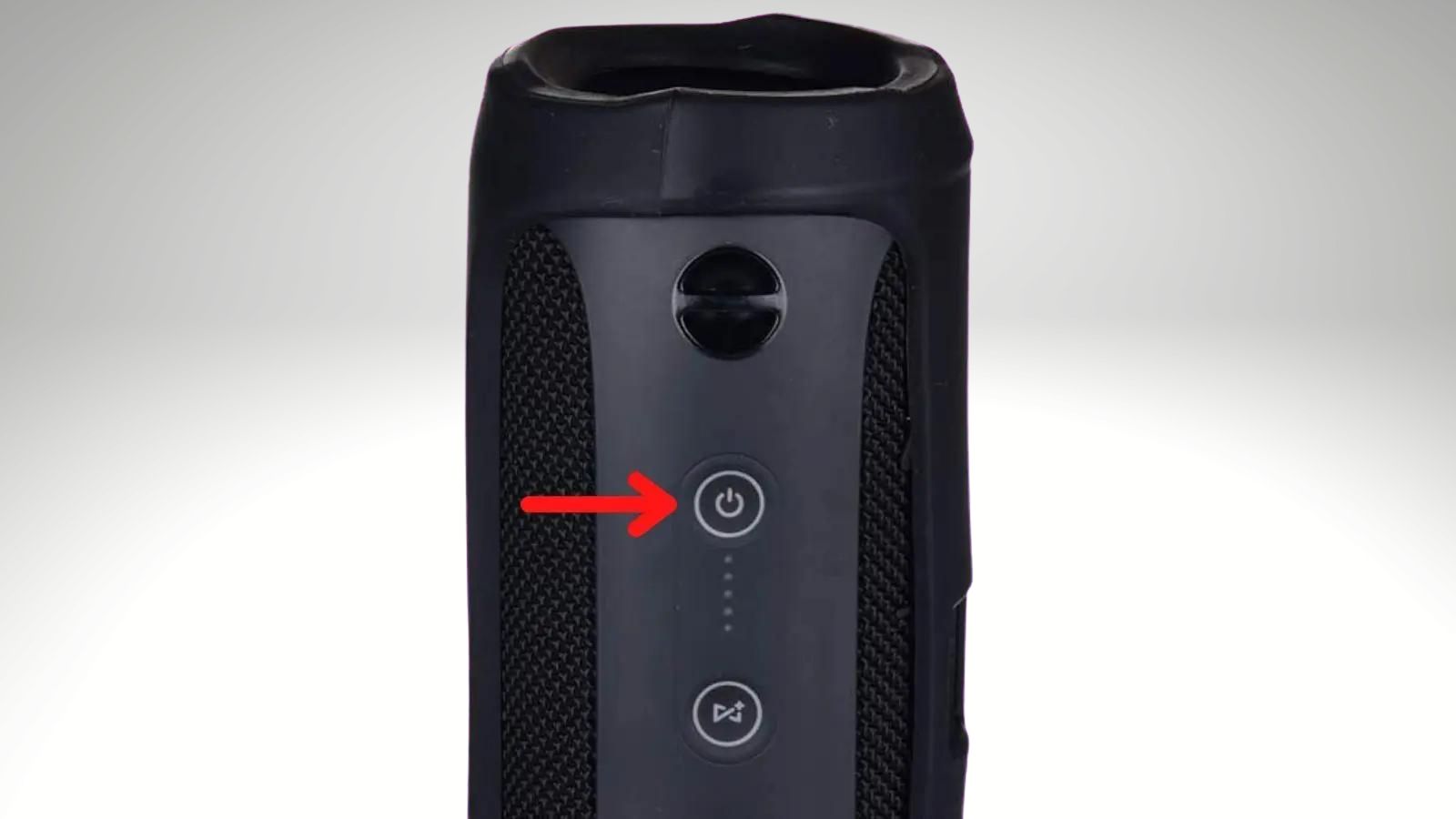 You should first make sure the JBL speaker is turned on and enabled for Bluetooth discovery.
Press and Hold The Bluetooth Button
To do this, press and hold the Bluetooth button for 2-3 seconds on your speaker until you see the Indicator light for Bluetooth start flashing.
Open Bluetooth Settings On Your iPhone
Now open the Settings app on your iPhone and go to the Bluetooth settings page.
Tap To Connect
You should see your JBL speaker listed under Other Devices. Tap on it to connect.
Bluetooth Light With Stop Flashing
Once your iPhone and speaker are connected, Once you do, the Bluetooth light on your speaker will stop flashing and stay illuminated for a while.
Play Any Music From Apple Music
Start playing some tunes on your iPhone now by opening the Music app. Your music will stream wirelessly from your iPhone to your JBL speaker.
And that's all there is to it! Just follow those simple steps and you'll be enjoying your music in no time.
How to connect the JBL speaker to the iPhone using the 3.5mm jack?
You should begin by turning off your iPhone as well as your JBL speaker.
It is possible to find the 3.5mm jack on the back of the JBL speaker if you look carefully.
Connect your iPhone's 3.5mm cable to the speaker's jack.
Turn on your JBL speaker.
Press the volume buttons on your iPhone to adjust the volume of the speaker.
You can also use the volume buttons on the speaker itself to adjust the volume.
To disconnect your iPhone from the speaker, unplug the 3.5mm cable from the speaker's back.
Turn off your JBL speaker when you're finished using it.
Troubleshooting tips for connecting a JBL speaker to an iPhone
If you're having trouble connecting your JBL speaker to your iPhone, here are a few troubleshooting tips that might help.
Ensure that the Bluetooth discovery mode on your JBL speaker is turned on and that the speaker is powered on. You can do this by pressing and holding the Bluetooth button on your speaker until the Bluetooth indicator light starts flashing. 
The iPhone speaker must be within range of your iPhone so that you can hear it. The connection will be lost if you are too far away from the server. If your JBL speaker is still not showing up in the Bluetooth settings on your iPhone, try restarting both your iPhone and the speaker.
You can also try resetting your JBL speaker if you're still having trouble. To do this, press and hold the Power button and the Bluetooth button simultaneously for about 5 seconds. This will reset your speaker to its factory settings.
Conclusion
To conclude our observations, it is safe to say that JBL speakers can be easily linked to iPhones. It can be added to the convenience of music lovers. Especially, if they are using iPhone, as it is one of the most popular and user-friendly smartphones in recent times.
Even though there are many ways to connect the JBL speaker to iPhone, we would recommend the Bluetooth connection, as it is the most common and hassle-free method. However, if you're having trouble connecting your iPhone to the JBL speaker, you can always try one of the other methods mentioned above.
How many JBL speakers you can connect to an iPhone?
You can connect up to 8 JBL speakers to an iPhone at the same time. This can be useful if you want to create a surround sound system in your home.
Moreover, many JBL speakers have the ability to daisy chain. This means that you can connect one speaker to another to create an even bigger sound system.
How we can adjust the volume of the JBL speaker after connecting it to iPhone?
Adjust the volume of your iPhone's speaker using the volume buttons. You can also use the volume buttons on the speaker itself to adjust the volume.
What is the Bluetooth range of JBL speakers?
The Bluetooth range of most JBL speakers is about 30 feet. However, this can vary depending on the model of the speaker.